Lake Mille Lacs Ice Fishing House Rental Rates
Lake Mille Lacs Ice House Rental Rates
Also see our Storage and Other Rates by CLICKING HERE
Click Here for printable Brochure on Wilderness Warmth Rental Rates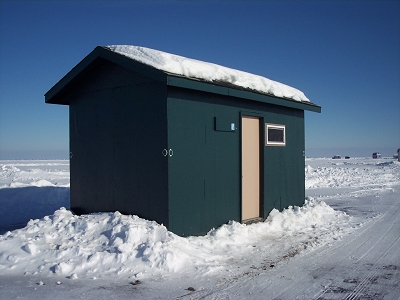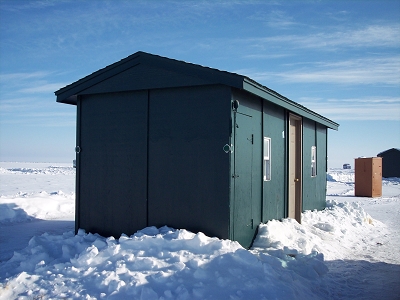 Ice House Rental Daily Rates
(Also, see WEEKEND rates below)
12 Hours
24 Hours

8x12 4 Hole Ice Fishing House
Includes: 2 bunks, Oven, AC & DC lights

$65.00
8x12 4 Hole Ice Fishing House
Includes: 2 bunks, Oven, AC & DC lights
$120.00
8x16 6 Hole Ice Fishing House
Includes: 3 bunks, Cookstove, AC Hook-up, Outdoor Bathroom
$95.00
8x16 6 Hole Ice Fishing House
Includes: 3 bunks, Cookstove, AC Hook-up, Outdoor Bathroom
$180.00
8x20 8 Hole Ice Fishing House
Includes: 4 bunks, Cookstove, AC Hook-up, Outdoor Bathroom
$120.00
8x20 8 Hole Ice Fishing House
Includes: 4 bunks, Cookstove, AC Hook-up, Outdoor Bathroom
$230.00
10x16 6-8 Hole Ice Fishing House
Includes: 3-4 bunks, Oven, AC Hook-up, Outdoor Bathroom
$130.00
10x16 6-8 Hole Ice Fishing House
Includes: 3-4 bunks, Oven, AC Hook-up, Outdoor Bathroom
$260.00
10x20 8 Hole Ice Fishing House
Includes: 4 bunks, Oven, AC & DC Hook-up, Bathroom
$135.00
10x20 8 Hole Ice Fishing House
Includes: 4 bunks, Oven, AC & DC Hook-up, Bathroom
$260.00
11x18 7 Hole Ice Fishing House
Includes: 4 bunks, Cookstove, AC Hook-up, Indoor Bathroom
$135.00
11x18 7 Hole Ice Fishing House
Includes: 4 bunks, Cookstove, AC Hook-up, Indoor Bathroom
$260.00
Weekend Rates
Friday Through Sunday (2 day minimum)
8x12 4 Hole Ice Fishing House $195.00 Friday-Sunday
8x16 6 Hole Ice Fishing House $295.00 Friday-Sunday
8x20 8 Hole Ice Fishing House $365.00 Friday-Sunday
10x16 6-8 Hole Ice Fishing House $385.00 Friday-Sunday
10x20 8 Hole Ice Fishing House $395.00 Friday-Sunday
11x18 7 Hole Ice Fishing House $395.00 Friday-Sunday

We have Military Discounts CALL TODAY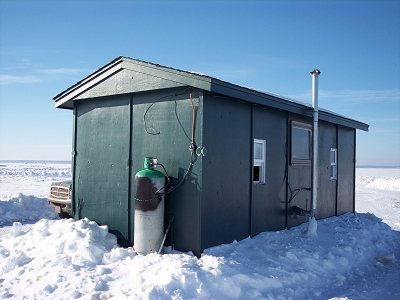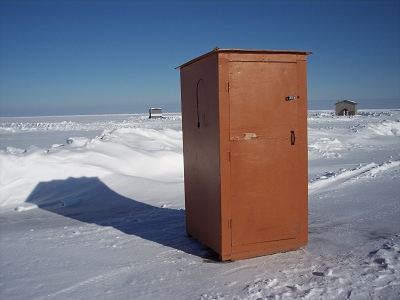 ALL OUR ICE FISHING HOUSES ARE EQUIPPED WITH:
CARPETED FLOORS (MOST HAVE NEW CARPET AND PAD)
PROPANE FURNACE
PROPANE GAS LIGHTS
2-4 BURNER COOKSTOVES, SOME WITH OVENS
RATTLE REELS
MATTRESSES WITH CLEAN SHEETS
TABLE AND CHAIRS
INDOOR OR OUTDOOR BATHROOMS
AC ELECTRICAL HOOK-UP
CATCH COVER (FISH HOLE COVERS)
THINGS YOU SHOULD BRING:
BAIT
TACKLE
COOKING UTENSILS
SLEEPING BAGS OR BLANKETS
SNACKS
ALSO AVAILABLE FOR RENT:
GENERATORS
BBQ GRILLS
TV/DVD PLAYERS
ALL FISHING GEAR, SUPPLIES AND BAIT CAN BE PURCHASED AT
LUNDEEN'S TACKLE CASTLE
AT THE JUNCTION OF HWY 169 AND COUNTY ROAD 27E
THEIR WEBSITE IS HERE
**50% Credit Card Deposit Required for All Rentals**
**10 Day Cancellation Required or NO Refund**
THANK YOU!
WE APPRECIATE YOUR BUSINESS!!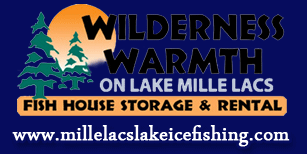 Wilderness Warmth
Fish House Storage & Rental
Jay & Amber Guimont
10315 State Hwy 27
Onamia, MN 56359
Tel # 1-877-423-8747
Fax #1-763-427-2678
wildernesswarmth@gmail.com